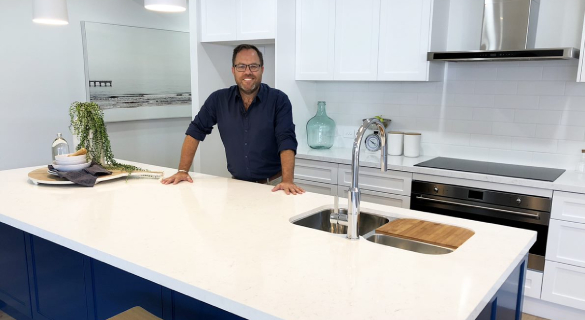 Posted on 30th August 2022
Design Tips with James Treble - Relaxed Hamptons
Relaxed Hamptons - Video Transcript
The Kew 26 - HomeWorld Warnervale
I'm here inside the Kew 26 display home. This is a four-bedrooms, single-storey design by Eden Brae Homes. Of course there is a journey in how a home ended looking like this and I want to share it with you.
I start with a theme for the home and in this case it was Relaxed Hamptons, and then I make sure that the whole home is cohesive, from inside and out. Now, I create a board like this because it helps me to explain visually the look that I'm after. You don't have to do it, but you should bring along to the appointment images that you've taken or found online of homes that you like.
For this home we wanted a cool coastal feel. The East Coast façade already has great character, but I wanted to play with that further by adding some texture, and did this by opting for some cladding on the base of the home, I worked with white windows and white trim, and teamed this with Colorbond roofing, which always works for a coastal feel.
For my internal colour scheme I wanted a nice crisp white look because I've already got a warmth with the timber look flooring. But I do like contrast. I've chosen this beautiful warm mid-tone grey as it gives me a nice contrast and makes the doors an interesting feature. But whether you're looking for timber-look floor or tiles, make sure that the colours all work well together.
When choosing tiles for your bathrooms remember that they also flow off your main floors. Now, my colours flow from the beautiful natural beach look into these soft neutered greys in the marble look. And to still add further contrast I decided to go for a beautiful rich inky blue in the shaker door profile. It creates a coastal feel and really ticks that relaxed Hamptons' box. For my mirrors I decided to break away from the standard and go for these beautiful round ones, they are like portholes on the side of the boat working with the nautical theme and together with the tiles and the beautiful vanity it really brings this bathroom to life.
As you all probably know by now, I love kitchens. They're such an important room as we spend so much time in them. I chose the same door profile as I did in the vanities, this shaker door profile. I kept that rich inky blue in the island and made the rest of the kitchen white, to add contrast and really let the island be the star of the show. For the bench-top I chose a veined stone, for added character, and again these colours work very well with the timber floor throughout this home.
My styling brief for this home was a mixture of cool greys, white and of course that indigo, creating that coastal feel. I also wanted wicker finishes and washed grey tones because all of these finishes together add to the relaxed Hamptons' feel in the interior design. My important tip for you when building your new home, is to start with a theme, and stick with it from the creation of the finishes right through to your styling. That way your going to end up with a beautiful, cohesive and very welcoming home.
I'm very proud of this home, and I'd love to hear what you think. You can come and check it out yourself by visiting the Kew 26 right here at HomeWorld Warnervale, or jump online and do the virtual tour at edenbraehomes.com.au