Posted on 14th January 2016
The Butler's Pantry – a design feature trending now
Entertaining at home and the health benefits and enjoyment in preparing meals with fresh produce are the reasons our clients are telling us a Butler's Pantry is a design feature they desire in their new home.
We all know the kitchen is a major focal point of any house design. It's essentially the hub of the home and often a gathering point for family and friends. Contemporary designs often have the kitchen as an integral part of the general living areas which is the great appeal of open plan living: that spaces are continuous and flow on from one another. What this means however is that the kitchen needs to look presentable almost all of the time – hence the growing popularity of the Butler's pantry. This however is not a new concept. Scott Hill, Curator of Elizabeth Farm (Australia's oldest home) says the Butler's pantry was a very significant room. It allowed the dining room to remain purely for dining. It traditionally was where cutlery, china, candles etc. were kept and the Butler was in charge of its contents.
Today's Butler's pantry is more of a discreet extension of the kitchen, accessible from the main kitchen to remain functional but concealed from full view of the family and meals area (and alas it doesn't come with a Butler). Preferably there is enough space to include a sink and tap, and a second dishwasher. This second preparation area is perfect for those who love to entertain. You can work freely and quickly preparing meals and plating up, knowing the mess is out of sight for you to deal with later.
Some hints to make the most of the space add shelving or open cabinets and ensure you have adequate lighting. Consider a number of power points along the bench so appliances can be permanently located ready for use, rather than forgotten about, or hard to reach stored at the back of a cupboard. To keep expenses down, save your stone and gloss finishes for your kitchen which is on show and use more low key options but similar colour palette for the Butler's pantry. Make sure you have easy access to everything, especially items you use on a regular basis. Don't think of this room as a space to "keep hidden" but more of as a support to your kitchen and a space to be proud of.
The Butler's pantry is very suitable for modern living and it's wonderful to see this old concept make a return with modern application. Kitchen design is always evolving and in this case revolving. The Butler's pantry has a new contemporary make over and is as suitable today as it was hundreds of years ago.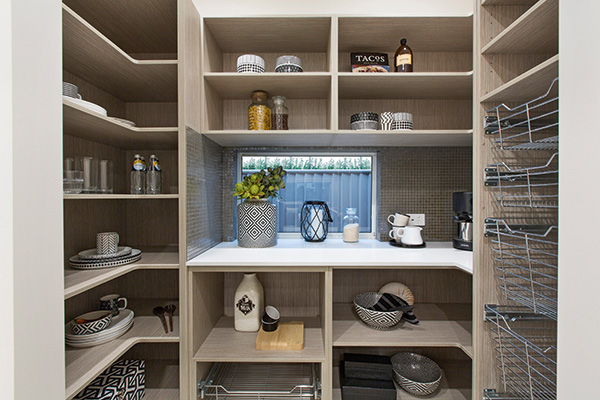 Make the most of the space add shelving or open cabinets to your Butler's Pantry. Pictured above is the Livingstone Butler's Pantry on display at Jordan Springs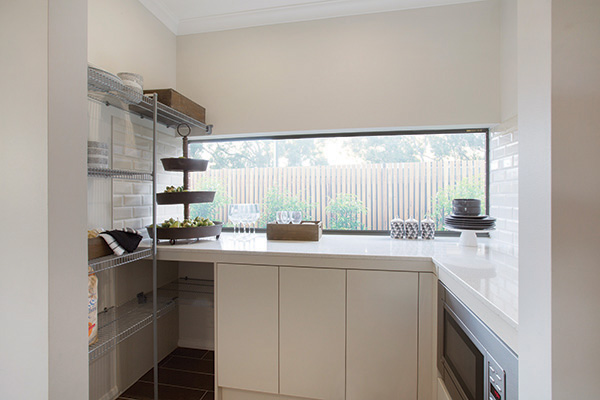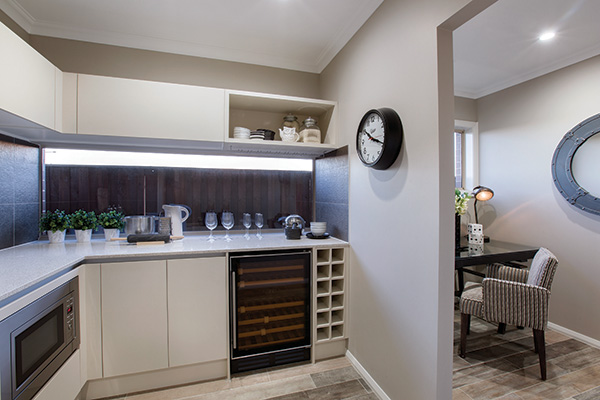 If you can, include a window on the external wall of the Butler's pantry to provide good natural light to work in, however, if your design doesn't allow for a window, ensure additional light fittings are installed under the cabinetry above the benchtop.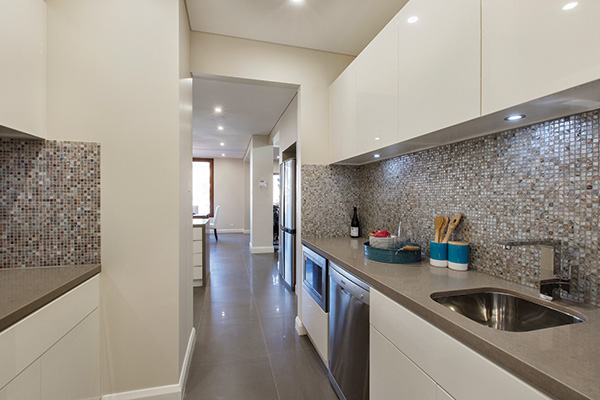 Pictured above is the Waldorf 48 Butler's Pantry Click to see the Waldorf
The Waldorf 48 is on display at Eden Brae's Home world Kellyville Display Centre. Click to see the Kellyville Display Centre