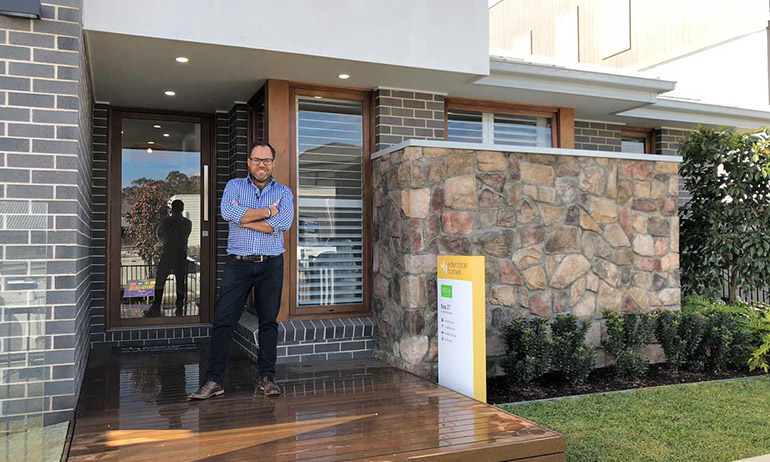 Video | Display Home Tour
Tour with James: the Kew 27
Transcript
Today I'm at Home World Leppington, and I'm inside the Kew 27; a single storey four bedroom home by Eden Brae Homes, and along with Eden Brae I have worked on the interior design and finishes for this home.
I particularly like the Fusion Façade of this home, because it has a slight nod towards the mid-century modern type of architecture, and to play with this a bit further I selected the beautiful Cultured Stone by PGH, adding some texture and character at the front of the home.
When you walk inside a home the entry is so important, as it's the first thing that your guests, family and friends see, and this home has a beautiful spacious entry, with the study at the front and a fantastically large master bedroom with its own walk-in wardrobe and en-suite.
Another important reason to come and check out this display home is to look at the styling, the finishes and all of the interior selections. For this home my idea was to work with Cool and Coastal: some washed timber tones, beautiful cool blues and greens throughout… and some key items that have a Nautical nod. Overall it helps to create this Cool Coastal feel, and the home feels very welcoming and relaxing to walk through; this may also give you some ideas for your brand new home.
Next up is the home theatre, one of three separate living areas in this home, and directly opposite is the laundry. Now, when you do your selections for your laundry don't forget that by adding lots of valuable storage, it becomes a functional room, and by getting the right mixture of colours and finishes, might even make it a room you may want to spend time in.
In the centre of the home is this large combined lounge, dining and kitchen with its own walk-in pantry, and it's the combination of finishes that is the success of this space. The beautiful weather finish on the benchtop, the cool colour in the splashback, combined with the natural timber elements and the nice soft blues and greens in the styling, help make this room a really comfortable and welcoming space.
Off this hallway there are three generous bedrooms, and this light-filled family bathroom. Now, it's an important thing to remember when you are doing your selections for your new home, to work with the look or the theme you're after. In this home I wanted a Cool Coastal look so, I've chosen this beautiful vertical lines for the door, plus I've updated its height. These lines draw the eye up and make you realise just how high the ceilings are.
The rumpus room is the third living in the home and it's very well located with great views to the backyard and having easy access out to that generous al-fresco area.
But working with the team at Eden Brae and mixing your personal taste and the right finishes of selections and great styling can turn this beautiful house into the perfect home for you.
You can come and walk through this home and see all it has to offer first hand right here at Homeworld Leppington... or you can take a virtual tour online by going to edenbraehomes.com.au.