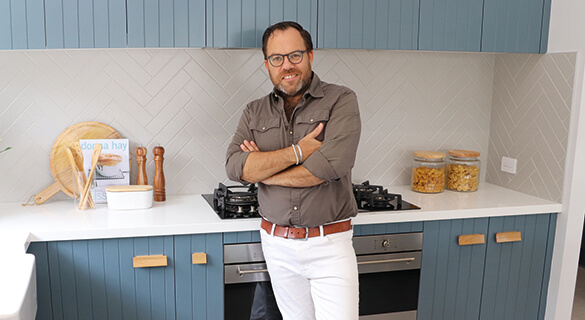 Posted on 12th January 2022
Tour with James Treble: the Paddington 23 Huntlee
The Paddington 23
Video transcript
Welcome to the Huntlee estate here in North Rothbury. We are surrounded by vineyards inland slightly from Newcastle but today we're actually here to look at a brand-new single story design for Eden Brae Homes. Welcome to the Paddington 23.
It's a great looking home and it starts from a really good looking facade, offering you a contemporary choice for your brand-new home.
This large single-storey home has four bedrooms and two living areas, yet the house is only just shy of 11 metres wide, meaning you can have a whole lot of house on a narrow block, and it starts with this great size lounge room right at the front of the home.
Continuing down this generous hallway your find the tree family bedrooms, located around the bathroom, but a great feature of this home is the separate toilet. It's perfect for a busy family and it also doubles as a perfect powder room for your guests.
One of the best features of this brand-new floor plan is large open plan family, dining and kitchen. Not only it's flooded with natural lied because all of these windows, but having the laundry located just there is also very functional. It's easy to access, plus it allows natural light from that side and a beautiful cross breeze from one side of the house to the other.
But of course the kitchen is the key feature in any home and this is definitely a large kitchen. It's got a huge amount of benchspace because it is a u-shaped kitchen, so it's perfect for the home chef. And that walking butler's pantry not only provides additional storage, but another preparation area for the home chef as well.
One of the great features of the Paddington 23 floor plan, is that the master bedroom is located at the rear of the home. This of course means that it is separated from the other bedrooms. It's got a very generous walking robe and a great size ensuite, but one of the features that I really like the best is that it links with the outside. This sliding glass doors lead you out to the alfresco. It's just like a hotel room, imagine waking up in the morning grabbing your coffee and walking straight outside.
Of course every Eden Brae home has a great link with the outdoors, and you can enter these great sized alfresco from the master bedroom and the open living as well.
You can come and take a walk through the brand-new Paddington 23 Display home right here at the Huntley estate in North Rothbury, or why not do the virtual tour online at edenbraehomes.com.au.