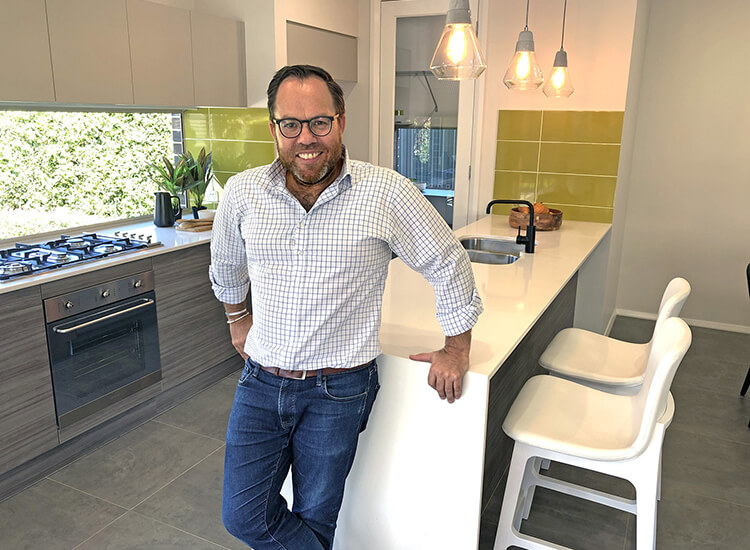 Video | Display Home Tour
Posted on 24th April 2020
Tour with James: the Lancaster 28 MK3
The Lancaster's clever design offers excellent value for home owners wanting a floor plan that moves easily from one area to the other. Modern lifestyles require plenty of casual living space and the Lancaster truly delivers. The kitchen truly is a chef's delight, opening out onto a generous alfresco, successfully blending indoors and outdoors.
Transcript
Are you after a large four-bedroom, two-storey home that can comfortably sit on a narrow block? Well, this might just be it. This is the Lancaster 28 MK3, it's got a great floor-plan spread out over two level and being part of Eden Brae Accent Series it's also been designed with affordability in mind; so join me now as we take a walk through this home to see what it has to offer.
The entry in this home is large and spacious, thanks in part of the placement of the lounge room, the first of three separate living areas in this home. Being located at the front of the home it's separated from the rest of the house, so it creates a quiet zone, a space to spend time by yourself, or the perfect formal lounge.
Next up is the powder room. It's centrally located so it's perfectly positioned for the whole family and your guests to access, and diagonally opposite this is the spacious laundry, the internal access from the garage and the double-door linen, creating a practical grouping of utility spaces.
Continuing down this very wide hallway we come across the open plan family, kitchen, and dining room. Now, this is a really big space. It's light filled, because there's windows on all three sides, but it's deceiving because this is such a huge room… remembering this home can fit on a 12 and a half meter wide block, and there's nothing narrow or small about this room.
Another great feature of this home is the study nook. Cleverly located in the corner of the room, it creates the perfect space for the kids to do the homework and allowing mum and dad to assist while they're cooking up a meal. But of course many mums and dads work from home these days, so it also creates the perfect home office.
The kitchen has a large splashback window, which perfectly links the inside with the outside. There is heaps of bench space and a lot of storage, thanks to that walk-in pantry. But one of the great features of this space is the double set of glass doors leading out to the alfresco. It creates the perfect place to entertain any time of year.
Upstairs is the third living area in this home, the upper lounge. This is a great size room, big enough for a whole tribe of kids and they can make a mess up here and really be kids without messing up the rest of the house downstairs.
The master bedroom is located at the front of the first floor, gaining the benefits of all of that light flooding in. There's a great size walk-in robe and an ensuite with plenty of bench space, and this definitely has enough room for separate seating area, so this is a true master suite. Another great feature of this home is that next to this one there is another bedroom, with the other two bedrooms located at the rear of the home. This separation of bedrooms is great for different family dynamics or for families with children of different ages.
The family bathroom is located between those two other bedrooms, and there is a separate toilet here, which is a really practical addition for any modern family. And did I mention the amount of space up here? It's really hard to believe just how much space you're getting in this home, considering that it fits on a narrow block.
The Lancaster 28 MK3 is a large four-bedroom home, with so much to offer, and being part of Eden Brae Accent Series, it's also been designed with affordability in mind. You can come right here and take a walk through this home yourself, at the Willowdale Estate in Leppington, or jump online and find out more details, plus the virtual tour, at edenbraehomes.com.au