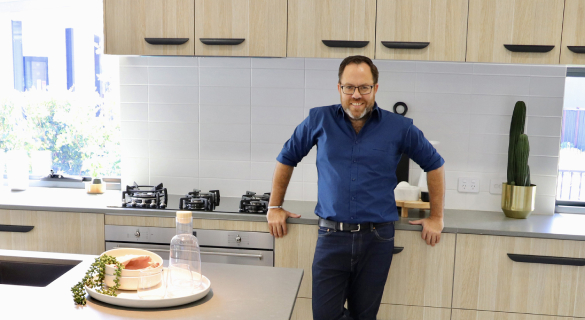 Posted on 27th September 2022
Design Tips with James Treble - Forsyth 30, Marsden Park
Palm Springs Interior Theme– Video Transcript

The Forsyth 30 – HomeWorld Marsden Park
The town of Palm Springs, located in the desert a few hours' drive east from LA, is known for its large range of Mid-Century Modern homes, and the architecture there is made of large spaces, streamlined design and an abundance of natural light inside.
The open nature of the Forsyth 30's floorplan felt like the perfect home to add some of the design features from this architectural style. So, for the theme of this particular home I have chosen Palm Springs.
Upon entering this large 4-bedroom, two-storey home, you are immediately impressed with the feeling of space, and with such a large amount of floor area, the choice of tiles had to be just right. Working towards the Palm Springs theme I chose these impressive 800x800 Terrazzo-look tiles.
The small aggregate chips in a range of soft greys, provide a floor that's easy to maintain, but it's so is visually interesting. Terrazzo may seem too 'busy' a finish for some, but the large area of the rooms allows it, in fact it actually benefits from a tile with such great character.
Because the staircase is so prominent in this home's floorplan, I have opted for a mono-string design with floating timber treads, as it makes it seem so much lighter and striking at the same time. By painting it white, the metal spine down the middle seems to disappear and also painted in white, are these beautiful. They're such a decorative element, and they also add great height to the room.
This galley kitchen has a great sized island and a generous walk-in pantry with the timber laminate providing a warm honey-colour tone with a rich textural finish. It adds both visual interest and the warmth of timber to this modern interior. The long timber handles are stained in black, adding to the streamlined looks and the re-occurring contrast theme of the interiors of this home.
Black tapware, a black undermount sink and the beautiful honed finish of the kitchen benchtops complete the appealing look of the Mid-Century Modern style.
The cabinetry combination worked so well in the kitchen, that I have repeated it in the laundry and bathrooms where for added interest the terrazzo floor tiles have also been used as feature on some of the walls. The matte black tapware and accessories support the modern look, but large oval basins, funky round mirrors are used to soften the space, like the timber grain which brings in the organic finish against the abundance of straight lines in this room.
Upstairs, the blonde timber tones used in this home's cabinetry and stairs became the inspiration for the flooring, which continues uninterrupted into the bedrooms, adding a fresh appeal and the sense of space which is so characteristic of the Mid-Century Modern style.
With its Palm Springs inspired theme this home is so beautiful, on-trend and it seems even larger than it is. I actually feel like I'm on holidays.
You can come and see the Forsyth 30 in person, right here at Homeworld Marsden Park or why not do the virtual 3D tour online, at edenbraehomes.com.au