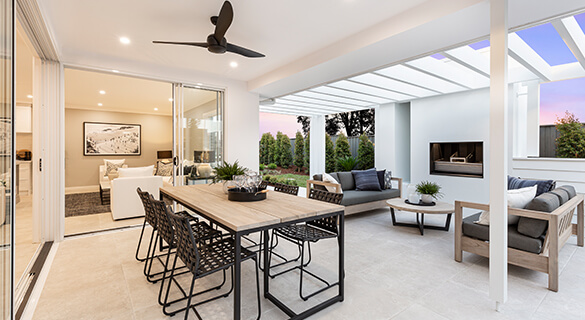 Posted on 21st August 2021
Spring into action: getting ready for spring
The birds are singing; the days are longer, the flowers are starting to bloom… You can feel spring coming in the sneak peeks of warm weather and your extra bursts of energy. Now is the perfect time to ready your home and garden for the sunnier months ahead.
Preparing your Alfresco area
Who doesn't love to entertain in the warm Australian sun? It's important to keep your alfresco area tidy. Wipe down your tables and chairs and if your furniture has soft covers, be sure to clean them regularly. Trim any overgrown plants trying to sneak their way into your entertaining area.
Perhaps most essential for outdoor entertaining, make sure you clean your cooking equipment and barbeque. You don't want snags a la grime!
Embrace the great outdoors
Anybody who appreciates our beautiful climate (or has allergies) knows plants thrive in the springtime – as do weeds! Spending just a little time each week weeding or trimming (or getting your kids to) can keep your backyard looking like a botanical garden.
If you've got a green thumb, spring is the best time to plant flowers like marigolds and snapdragons. Or, if you're looking to start a herb or veggie patch, you've got a variety of choices, from tomatoes and turnips to basil and thyme.
Succulents are always reliable, too. They're easy to grow and need next to no care.
(Watch this space in the coming weeks for extra gardening tips and tricks!)
Time keeps ticking, and the (spotlessly cleaned) fans keep spinning
As spring is when things start to heat up in Australia, it's time to check outdoor equipment such as your rainwater tank filter. If your outside air conditioning units are at ground level, maintain ventilation by keeping them clear of clutter and a good distance from plants and shrubs.
For indoors or within your alfresco, make sure your fans are spinning smoothly to keep your home clean and cool. For your internal air conditioner units – it's important to always check your air- filters to make sure they remain clean. A reminder to also check your smoke alarm batteries.
In the kitchen, regularly clean your range hood filter to prevent grease build-up and keep the unit's fan working efficiently.
Furnishings will also need to be cleaned, such as changing over cushion covers or packing away heavy winter blankets and replacing them with the lighter weight throws. Will you change your colour theme for spring to lighter, cooler colours?
Bust out the bucket
The magic ingredients for keeping powder-coated hardware like garage doors and aluminium window frames spotless is a soft brush and a dash of detergent in warm water.
For painted surfaces like your walls, a soft cloth will do fine to eliminate any grime and extend the life of paintwork.
One of the great things about choosing a reputable company like Eden Brae homes is that you won't have to worry about immediate major maintenance issues. But don't forget to look after the small things to keep your house looking like a display home. Contact us at 1300 645 860.