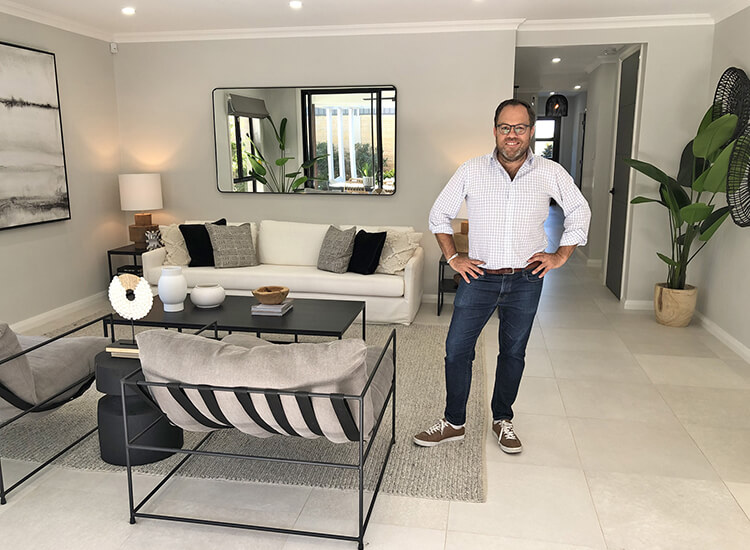 Video | Display Home Tour
Posted on 17th April 2020
Tour with James: the Midland 21
The Midland definitely has the WOW factor. Specifically designed for narrow blocks and those looking to downsize but still wishing to have the space to entertain, you will not be disappointed with this 4 bedroom single storey home. The Midland is a superb example of how successfully contemporary style can be combined with high functionality. This open plan home features an immaculate kitchen design that would delight the master chef of the family and is truly the hero of this home.
Transcript
If you're after a great-looking, single-storey home with four bedrooms, this might just be the right one for you. Welcome to the Willowdale Estate here at Leppington, this is the Midland 21, a great home by Eden Brae Homes. It looks stylish from the outside, but let's get inside and take a look to see what this home really has to offer.
This four-bedroom single-storey home has a great and practical layout and it start with the master bedroom, located at the front of the home. It's got a good size walking robe and a well-appointed ensuite, and the room is large enough for a king bed and big bedside tables, the perfect parents' retreat and a nice destination for mum and dad.
Next up is this great-sized living room. There's plenty of space for lots of seating, great for the kids to hang out with their mates or a nice place for the whole family to relax and enjoy time together. Next, we come to three family bedrooms. They're practically located with two of them on one side and the third room next to the family bathroom, with its own separate toilet. This provides lots of options for families with children of different ages, a really well thought-out and well-considered part of this floorplan.
Next, we come to this large open-plan family, dining and kitchen. I particularly love this open plan room in the Midland 21 design for a couple of reasons, firstly because it's flooded with natural light, due to these large windows, an important feature in any home. Those sliding glass doors both open out and away creating a great link from the inside to the outside, allowing easy access to that great alfresco. It's the perfect place for entertaining with your friends and perfect for your family any time of the year.
Everybody knows by now how much I love kitchens. The kitchen in this home's plan steals the show. There is so much benchspace in this design. This breakfast bar is so large, engaged only in the corner so it creates the feeling of an island, and great to engage with family and friends. But behind me that benchtop continues along past the sink and cooktop and wraps around towards that walk-in pantry. It's a very generously proportioned space with lots of storage. There are also two large windows in this design flooding natural light in and blurring the lines between inside and out.
The spacious laundry is also well located with easy external access for air-drying.
The Midland 21 is possibly my favourite single storey design. It's just got a great spacious feel and so much natural light. I really encourage you to come and walk through yourself to see if it is your favourite home, which you can do so right here at the Willowdale estate in Leppington. Or why not do the virtual tour online at edenbraehomes.com.au