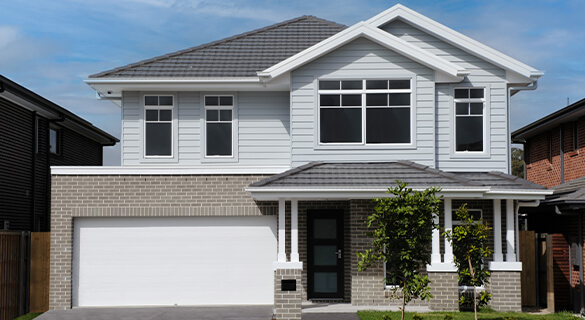 House & Land Packages vs Own Land and Home Design
What's the best option: Fixed Price House & Land Package or Buying Your Own Block to Build a Home?
If you've decided to plunge into building a new home, congratulations! There are lots of advantages to building your own place, as you've no doubt considered.
There are, of course, lots of decisions to be made. The first major decision is whether you'd like to purchase a fixed price house and land package from a developer and builder, or choose to buy a block of land and build your own house.
There's important differences between the two options. Here are four key considerations to help you decide.
1. Will you have financial peace of mind?
When you choose a house and land package from a trusted builder such as Eden Brae Homes, you'll have financial peace of mind. Our fixed price packages cover the purchase of the land, plus the building of the house, site costs and Council or Developer requirements, all in one.
Eden Brae's fixed price guarantee means that there won't be any unwelcome surprises in the form of cost overruns. Eden Brae's house and land packages even include the driveway and path. This is usually an additional cost that needs to be priced by the builder during the build or after settlement.
The all-in-one cost makes fixed price house and land packages very different to buying your own land. When you buy a block from an agent, you'll need to identify the site costs and any Council or Developer requirements with the builder and add these to the cost of buying your block and building your house. You may also need to appoint an architect to draw up your home design.
Bear in mind too, that Developers have specific requirements for the homes being built on their estates. Eden Brae knows these well in advance and so our homes for each estate meet all Developer specifications. For example, the Developer may allow a choice of three different facades. If you're buying your own block and planning your own home build, you'll need to do your own research on the estate guidelines and factor the cost of this time into your budget.
2. How easy are the legal arrangements?
House and land packages come with two fixed-price contracts, one with the home builder and one with the land developer. The packaged contracts are written to be peas in a legal pod. This makes a house and land package a more straightforward option than buying and building on your own land.
When you buy your own block and build yourself, you'll need to organise for your lawyer to draw up both contracts and liaise with Council. As you can imagine, this is costly and time consuming.
3. Will you be able to build the home you've been dreaming of?
There are other advantages to Eden Brae Homes' fixed price and land packages. Even during land shortages, Eden Brae's long term relationships with developers mean that we're able to select premium blocks and package them with the most suitable home design options for the block size, slope and soil type.
Eden Brae Homes offers a wide array of floor plans to suit all types of blocks, so you always have a variety of house and land packages to choose from.
All Eden Brae homes are orientated to bring in natural light and warmth, whilst meeting Council requirements such as floor-space ratio and boundary setbacks. And best of all, you'll still be able to personalise your home at your colour selections appointment.
It's a very different situation when buying land directly from an agent. Here, you're competing with others who want to buy the same block, and, even more challenging, you don't know the quality of the available block before buying.
Unfortunately, you run the risk of being offered a block that requires a lot of work. After buying the land, you'll need to organise a surveyor to do a soil test and a site survey. The block slope or soil type may force you into a floor plan not of your choosing. Or, the surveyor could reveal other issues that result in high site costs such as excavation work to enable utilities to be located where you want them.
Whilst there are modifications you can make to the block and to your home design if your heart's set on a particular layout, these eat into your budget and time.
4. Will you have help throughout the home build process?
Building on your own land means having to deal with all the paperwork, council and builder yourself. As you can imagine, it's very time consuming, not to mention stressful.
Buying a house and land package makes the process much simpler. With Eden Brae Homes, for instance, you'll have a Customer Service Administrator assisting you through the home build process from start to finish. Eden Brae Homes takes care of everything, from interactions with Council, through to final inspections. Support like this makes building a new home so much more enjoyable.
Find your perfect house and land package
With its matching contracts, pre-researched property and design-first policy, an Eden Brae Homes house and land package can save you time and money long-term. We have the best blocks available in premium estates in the Hunter Region, Central Coast, North West Sydney, South West Sydney and the Illawarra. To find your perfect Eden Brae house and land packages visit https://edenbraehomes.com.au/house-and-land/packages/ or if you need any further advice, please don't hesitate to call Eden Brae - 1300-645-860 where one of our friendly Sales Consultants will help you..