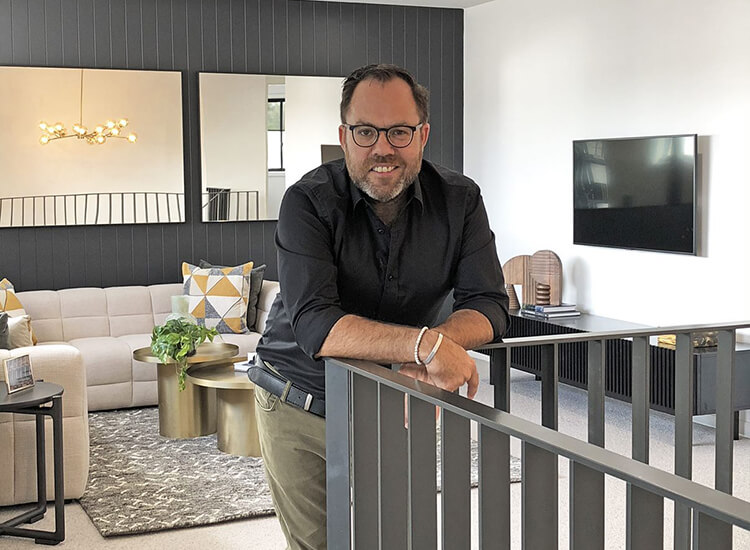 Video | Display Home Tour
Tour with James: the Waldorf 44MK2
The name of this striking two-storey home is synonymous with luxury. Exceptionally roomy throughout, the Waldorf makes contemporary living effortless. You'll love the generous proportions of the downstairs living areas, including an open plan kitchen and huge games room off the large living and entertaining spaces. Four bedrooms and a rumpus room await upstairs and parents will enjoy their own private balcony.
Transcript
To say I'm excited at sharing this home would be an understatement, this is not only a brand-new display home but also Eden Brae's Flagship. So join me now as we take a walkthrough the Waldorf 44 MK2.
The moment you arrive you realise you have entered something pretty special. The Waldorf has four bedrooms and five bathrooms, spread out over two levels. The size of this floorplan allows for a really impressive front door, a striking staircase and a huge amount of space. On one side is the study, perfect for the home office; on the other side we have the internal entry to the garage, the powder room and a closet. You could choose to fit it out as we have done here to create the perfect mudroom. It's great for shoe storage and the perfect drop off zone for the schoolbags, keeping the rest of the house neat and tidy.
Continuing down this wide hallway you come to the lounge, one of five separate living areas in this home. it's the perfect room to create a living area as we have done here, and you might choose to add a fireplace. That would create the perfect space to catch up with some friends or a cosy place to curl up with a good book.
What can you say, how amazing is this space? This large open-plan dining, living and kitchen is certainly a draw card inside the Waldorf design. But this is the Waldorf 44 MK2. There have been some subtle but important floor plan changes, meaning this Waldorf design is even more appealing.
Now, the amount of space in this design has always allowed for a large island like this one, but it's the reconfiguration of the rest of the kitchen that's really exciting. The design changes in the kitchen still provide with that large walk-in pantry, but now you can easily fit one large fridge and a separate large freezer side by side. Or you might choose to do as we've done here; we've got plenty of room for a french-door fridge and still enough space to one side for additional storage.
But the design changes continue. Now there is enough room in the galley to provide a second kitchen. There's plenty of space for benchtop, a sink and a cooktop. There is also plenty of space on the other side for a full wall of storage. This is creating a true butler's pantry and the perfect addition to your home.
Of course a large family home also deserves a large laundry, with plenty of room for built-in storage and washing machine and dryer. And on the other side of the room we've included a whole wall of storage.
This is one of my favourite rooms, great if you're a movie buff and the whole family can fit in this space. But you can pull back those curtains and let the light flood in.
The upstairs living space is massive, you've essentially got two rooms. We've got a rumpus and a sitting room, great for the kids to watch the shows they want, listen to music, or you might choose to create a separate study area. There are so many possibilities in this home's design.
Each of the three family bedrooms have their own walk-in robe and ensuite, and they're a great size, big enough for a queen size bed, so plenty of space to spend time together in this home, and then a nice private space to retreat when they want to.
But, it's the master bedroom that really steals the show, this is such a large room, it feels more like a hotel room. Of course storage is always important and there's enough room in this floorplan to allow plenty of storage, accessed from either side; you can include tall storage and shelving and maybe even a pampering space for mum. The amount of space continues here in the ensuite. You've got a beautiful free-standing bath, a 'his and hers' basin, a separate toilet and there's plenty of room for you to include even more storage. This home has plenty of space and options, allowing you to personalise it to your needs and taste.
The Waldorf 44 MK2 is definitely an impressive home, and I encourage you to come here and take a walkthrough it yourself, right here a HomeWorld Box Hill, or why not go online and find all the details at edenbraehomes.com.au