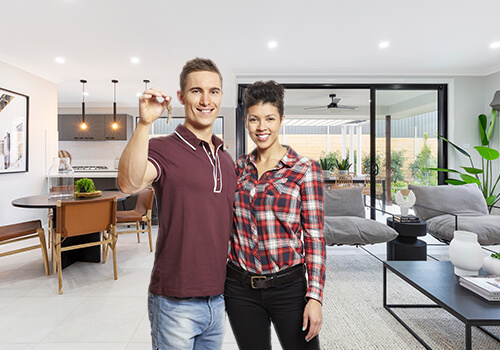 Posted on 10th January 2020
First Home Loan Deposit Scheme
Government incentive opens the door to home ownership
The new year will be off to a flying start with the Australian Government's introduction of the First Home Loan Deposit Scheme on 1 January 2020. This initiative is designed to support eligible first home buyers purchase a home sooner.
How does the scheme work?
The scheme provides a guarantee from the Australian Government to assist eligible first home buyers on low and middle incomes can purchase a home with a deposit of as little as 5%.

As you would expect, there are various eligibility criteria that apply to anyone wanting to take advantage of the scheme, including income thresholds and that the owner-occupied loans are on a principal and interest basis only. The Government has created a panel of 27 lenders that will begin offering guaranteed loans from 1 February including NAB and CBA. It's anticipated that more than 10,000 loans will be granted each financial year.

You can find out additional scheme information here.
I'm eligible, how do I find a builder?
The First Home Loan Deposit Scheme is a great incentive and Eden Brae Homes is the ideal builder to help you and your family take advantage of its benefits via a house and land package.

Eden Brae works with trusted land development partners to build contemporary-designed, award winning house and land packages to suit your family lifestyle. Our homes are located in the most sought-after suburbs in metropolitan and regional Sydney as well as the Central Coast, Newcastle, Hunter and Illawarra regions. And because we offer such a wide range of block sizes and design styles, there's something to suit everyone.
What are the advantages of an Eden Brae house and land package?
First up, our packages offer outstanding value. They include a modern home design on your choice of a block of land for a fixed price. That's right, you pay no hidden costs or fees and the price we quote is the total price that you pay.

The next big advantage is that Eden Brae Homes is an award-winning builder with an excellent reputation for quality and customer service. We're exceptionally proud that our commitment to quality has been acknowledged nationally and locally by being recognised as the HIA's Australian Professional Major Builder and the HIA's NSW Region Professional Major Builder multiple times. We're also extremely proud to be recognised year after year by the Australian Achiever Awards for our excellence in customer service.

For most people, taking the step towards home ownership is probably the biggest investment they'll ever make so it's essential that you find a builder that you can trust and whose industry experience works to your benefit. When you choose to build with Eden Brae Homes, you gain the added peace of mind that comes from knowing you're with one of the best builders in the industry. And that's something that you can feel really good about.