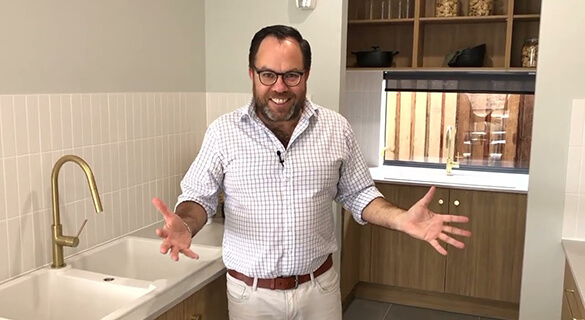 Tour with James Treble: The Fairmont 23, Chisholm
The Fairmont 23, Chisholm
Video transcript
Welcome to the Fairmont 23, here at Waterford Living in Chisholm. Join me now as we take a walkthrough this large single storey home to see why it might be the perfect home for you.
The Fairmont 23 has four bedrooms, with this being the master suite, located at the front of the home. It's got a very generous walk-in robe and a large ensuite, making it the true master suite. What I really love about this design apart from the space in this room, is that the ensuite is of a great size. It allows for two basins, plus, the toilet is cleverly tucked in around the corner, out of view.
I like this floorplan, because the three family bedrooms are located in the centre of the home, with one on one side and two together on the other side of the hall. This is a great way to deal with children of different ages, and an important thing for family dynamics. Another great feature about this floorplan is that the family bathroom is located near the family bedrooms. There's also a separate toilet, with its own basin. This is very practical to have a separate space for busy families, but it also means that your guests can use that separate toilet as a powder room, and not have to go into the family bathroom.
Of course, storage is always important, each of the bedrooms have their own built-in robe and the linen is also of a great size. A great feature of this home is that large skylight above, flooding this bathroom with natural light. It's actually a great tip when building any new home to consider installing skylights, they allow natural light to flood into the home, making the space feel lighter, brighter and much larger.
Another great feature of this floorplan is this large laundry, allowing you to fit in lots of cabinetry and benchspace. We also included a hanging rail because it's such a great feature. Because this room is so big, we also included a mudroom. It's a great space for the kids to drop their bags and shoes, keeping the rest of the house neat and tidy.
The large family, dining and kitchen is a great open plan space, flooded with natural light thanks to the window placement, and they all flow out to that alfresco, creating even a larger space. But it's the kitchen in this home that's really impressive. As you can see there is a combination of plenty of bench space and plenty of storage.
And it's the position of the appliances and sink which really makes this space come alive. The cooktop is on one side with the oven and plenty of benchspace, but the sink is cleverly tucked in away on this side, again, with plenty of bench space, but it keeps that breakfast bar clean, perfect for entertaining. But the amount of space in this floorplan continues into that walk-in pantry, the fridge is located in there and because of the amount of space, we've been able to include additional cabinetry and benchtop. Even more storage options to this well-appointed house.
Located at the rear of the home is the rumpus an all-important second living area, and by simply adding a door you can easily turn it into the perfect home-theatre.
As you can see the Fairmont 23 has lot to offer, and we're very proud of this home right here in the Hunter region. You can come and enjoy this home for yourself right here in Waterford Living in Chisholm, or for more details why not go online to edenbraehomes.com.au.