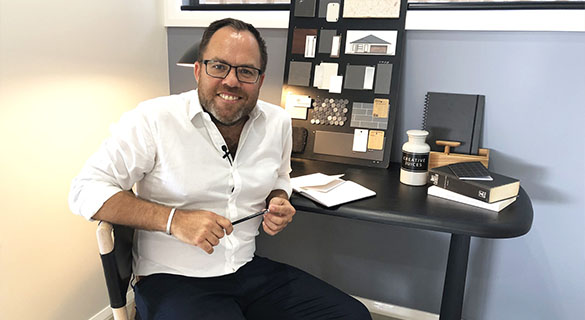 Posted on 18th April 2019
Design Tips with James: Urban Industrial
Video transcript
Visiting a display home is the perfect way for you to find the home of your dreams, but it's also really important to help you understand the selections that you like, the finishes that you're going to choose for the exterior and interior of your home, as well as the ultimate styling, the look that works for you. Today I'm here in the Newington 22 Mk2, one of the newest display homes for Eden Brae Homes, and I wanted to share with you the journey that I took to create this beautiful home.
When I'm selecting finishes for a home, I like to give it a theme, a personality. For this particular house I went with Urban Industrial. I wanted to give it a sort of edgy look, and I keep referring to that theme as I make selections from the outside of the home, right throughout the house. My Urban Industrial theme is all about contrast of finishes. I've got this beautiful white brick and contrasted it with a mid-grey toned roof; to add lots of warmth I've added timber windows and great timber front door.
Continuing my Urban Industrial theme inside, I've chosen a nice soft off-white for the wall and crisp-white for the timber trim. For the main flooring I've decided to go with tiles in a slightly concrete look. And because I've run them through the main floor it actually makes the rooms feel larger and much more spacious.
Carpet in the bedrooms is a really popular choice; it's so nice underfoot and it makes the rooms feel warm and cosy. For the colour I've chosen a beautiful rich deep charcoal; it adds great contrast against the main floor and it also lets me have great contrast against the bedding and accent pieces.
A free-standing bath is a great asset to have in your home, it also enhances that beautiful bathroom experience… but by running the floor tiles up the rear wall, it allows the bath to contrast against the other colour, making it more of a feature. To add warmth to this space I've opted for timber grain in the cabinetry and teamed it with a nice grey stone benchtop. And for a little and extra feature I've gone with an interesting shape mirror, just to add some further character to the room.
The kitchen is the most important room in the house and getting the finishes right can turn a great kitchen into an amazing kitchen. Now, in this house it's already got a beautiful splash-back window, but I enhance that with the finishes. I teamed white doors to the base cabinets, with beautiful timber grain for the over-head, and for the splash-back I've gone for charcoal tiles laid in a brick pattern; and the grey benchtop… well, that hearts back to my Urban Industrial theme.
A walk-in pantry like this one is a great feature in any home… but why not turn up the Design volume just a little bit adding rich timber grain with a beautiful stone bench-top. And why can't the laundry look as good as the rest of the house?
All of these finishes together combine to create a beautiful home that people would want to live in. it's a great idea to collect images, online or in magazines, and bring those to your selection appointments. That way the images will easily convey the look and feel that you're wishing to create in your new brand-new home.
Of course, the final layer in any home is the styling and my brief for this home was continuing that Urban Industrial look.
Now, if you'd like to walk through this home for yourself you can come here to HomeWorld Warnervale, and visit the Newington 22 Mk2… or jump online and take the virtual tour at edenbraehomes.com.au.