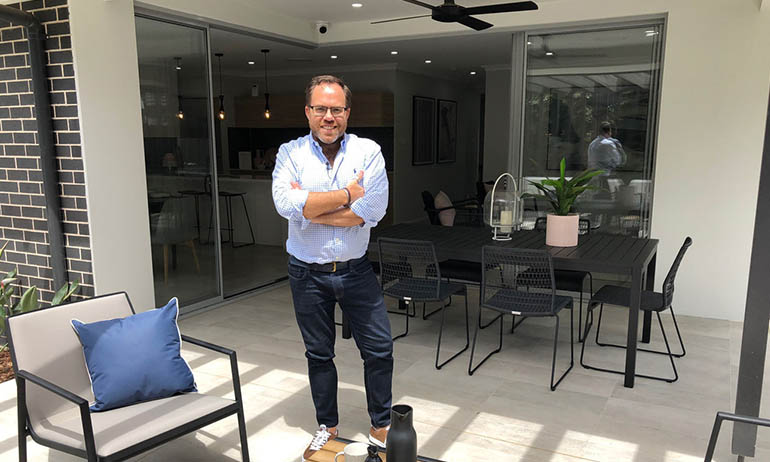 Posted on 12th November 2018
Tips with James Treble: Creating the right alfresco for your new home
We love to entertain outdoors so alfresco areas are an important asset to your brand new home. James Treble Interior Designer provides you with some great tips to help you create and style your own alfresco area in your home.
Transcript:
When it comes to creating the perfect family home, it's not just about having great looking interiors it's also about how the inside of your home links with the outside, creating a space to relax or entertain with your family and friends. Today I'm going to give you some tips and tricks for you to make the most of your alfresco.
The word Alfresco comes from the Italian language, meaning 'being in fresh air', 'being outdoors'. And because of our great climate the alfresco has become an integral part of the modern Australian home.
The alfresco is usually located at the rear of the home, providing easy access from your open kitchen, living and dining to the backyard, garden or swimming pool. The size of this area will be determined by your house design, your land size and your budget.
The colours and finishes that you choose will be determined by your taste and your house style. But one thing worth considering is to use the same flooring from inside and out. Using the same flooring type, such as tiles, creates great flow. It makes the space seem much larger, whether you're looking from the outside in or the inside out.
Another way to increase the feeling of space in your alfresco as well as link it with the inside of your home, is to consider how you access it. In this design we have a beautiful set of glass doors entering into the dining room, and a large bank of glass doors entering the lounge room. This provides easy access in and around the home but you should talk to your sales consultant because you could remove this wall and really open up this space. As you can see in this house design the corner wall has gone. There's a beautiful flow now, from inside and out. It almost feels like one big space and it's perfect for entertaining.
As part of your selections' process, you will have an electrical appointment, and that's going to give you a chance to deal with the lighting for the alfresco, allowing you to enjoy this beautiful space at night time as well. And don't forget a ceiling fan. They are perfect for those very hot days and create the resort feel as well.
Styling of course is one of my favourite parts of any home, and in the alfresco, when you look at your furniture pieces, they should relate to the space. A rectangular dining table may be the perfect choice to sit all your friends or family. But depending on the size and design of your alfresco a round table may be a better choice, as it allows an easy flow in and around the space.
And don't forget your cushions. There's such a huge range of outdoor cushions available and are a great way to add pattern, texture and colour to your alfresco.
And finally, don't forget the power of plants. They help soften the space and create the perfect link from outside the garden to inside of the home.
I encourage you to make the most of your alfresco. It's going to add great value to your home, plus provide another living area for you and your family to enjoy. To give you great inspiration and lots of ideas for your own alfresco I invite you to come and visit the Eden Brae display homes.