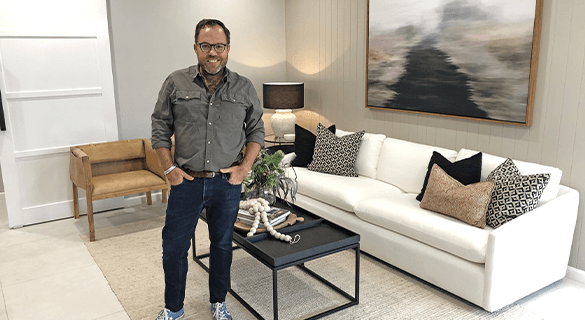 Design Tips with James Treble: Contemporary Country
Contemporary Country - Interior Design
Toorak 27 - On display at HomeWorld Box Hill
Welcome to the Toorak 27, a large four-bedroom single-storey design for Eden Brae Homes. Now, the moment you walk inside you can sense an immense feeling of space, it's a really large home. For me it evokes the feeling of a large country homestead and yet its room placement is completely contemporary so the thing for this whole became Contemporary Country, and all the finishes in fittings were selected to evoke that beautiful feeling of a country escape, so join me as we take a look around.
The large entry foyer is pretty inviting and feels even larger because it's so well connected with that front living room. The amount of space allowed me to start adding all of those country elements and for me it was all about adding texture via these beautiful v-groove clad walls. The vertical line adds to the feeling of height to this space so it feels wide and tall. For the floor tiles I went with 600 x 600 porcelain tiles. They're easy to maintain and give me that beautiful soft undulating finish in a soft off-white, almost like the gravel paths that you find leading to the country homestead. Again referring to the theme gave me the idea for the door profile. These beautifully panelled solid timber doors feel like they're from a traditional country home and yet they're very modern. And adding the matt-black door hardware allowed that contemporary element, again contemporary and country.
Creating the bathrooms in this home was a pleasure and of course I related back to that Contemporary Country theme. I repeated the use of the floor tiles with the undulating weathered finish and teamed them this time with satin wall tiles for a very nice soft contrast. But creating this setup here was a lot of fun. Beautiful dark shaker doors in an inky blue create that traditional element again in a contemporary way. This beautiful round basing that sits inside vanity is almost like those beautiful bowls and jugs you fine in traditional country homes. The round bowl shape mixes beautifully with a straight line of the tiles it's a nice play on geometry. And I balanced that but repeating with a round mirror, this time with a matt-black frame allowing me to use matt-black framing on the shower screen. Now, I do like a little bit of bling, but for my warn weather country feel I wanted a brushed finish so these brush gold tap ware was the perfect choice.
When I'm creating a theme for a home it's often the floor plan that gives me the idea where to place key elements. The Toorak 27 has got this great placement of the three family bedrooms off there own separate hallway. it creates a nice separate sleeping zone for the family but of course I wanted to close that off so when the kids go to bed I can still keep partying with my friends and talking away. To do this I've added a fantastic barn door. It's allowed me to pick up the matt-black in the tracking and the door handle, and of course a repeat of the same internal door profile.
In every home the kitchen is the hive of activities, it's where you get to catch up with your family and friends especially when it comes time to entertain. I wanted to of course to create unity in this home so I've repeated the same finishes that I've used in the vanities. Those beautiful rich inky blue doors in a shaker profile, the soft-white benchtop adds a nice contrast and stops the space from feeling too dark and heavy. It's light and fresh. For the tap I wanted to also to get the traditional feel of the country homes so I went for the gooseneck profile and mixer tap that's' always so functional but brushed gold allowed me to again repeat the tap ware finishes in the bathroom, a little bling for the kitchen. For the sink I wanted the country feeling and what's more country than a beautiful farmer ceramic sink, and I've included a second sink in this design, in the pantry so I've got another space for food preparation or to put the dirty dishes when it comes time to entertain, helping keep my kitchen nice and clean.
The final layer in any home of course is the styling when you get to add your furniture, your artwork and your décor pieces. My styling brief for this home worked back to that Contemporary Country look. You can come and take a walk through this home yourself and enjoy a little contemporary Country escape here at Homeworld Box Hill, or why not do the virtual tour of the Toorak 27 online, at edenbraehomes.com.au.