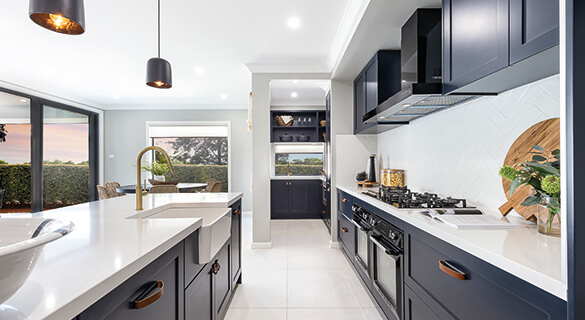 Posted on 21st February 2022
Add Some Colour to Your Kitchen and Take it From Blah to Beautiful
A kitchen is the engine room of any good house design: A place where meals are prepared and made, a place for friends and family to hang out, a place for grabbing an apple, making coffee, supervising homework…… the kitchen is where your day's activities really begin and end.
Leading colour and finish specialists at Laminex forecast trends that indicate a move towards a warmer and more inviting aesthetic.
Cool greys and whites are no longer the main surface colours. We are now seeing blues and greens with timber ascents that really do generate a sense of calmness and natural beauty.
The great appeal of blues and greens is that they bring the outside in. Decades ago, we could get our "nature fix" by having a generous back yard but with green spaces getting smaller, it is lovely to have these colours in our home as part of permanent fixtures. Greens and blues are colours that never look tired. They can be as vivid or as subtle as you like. Colours provide personality to the kitchen. Integrating cabinetry with wall colours and decor to create an uninterrupted space makes for a seamless interior.
Plenty of stainless steel and shiny surfaces can make the kitchen look too clinical. A coloured bench top or cabinets will soften the presentation and in fact help connect the kitchen to the living areas. Open plan living areas where rooms flow on to each other often have the same colour theme to create continuity and a beautiful aesthetic flow. The added bonus of connecting these spaces with colour is the whole area looks bigger and well thought out.
Don't be afraid to use colour. Any earthy tones or shades from the nature palette are sure to stand the test of time. Timber ascents provide the right amount of warmth and ensure the overall look has enduring appeal. If you are going to be creative and cook up some delicious meals than you need to be in a space that's conducive to this. Even toasters, kettles, and a whole range of kitchen accessories are now available in a range of colours. It is all about creating an ambience where you WANT to be in this space rather than have to be.
There is no doubt the kitchen is a place of action and functionality but that doesn't mean it has to look like a work station. Be brave. Be bold. If you add some colour, you might just enjoy being in it that little bit more.
For more kitchen inspirations, visit www.kitchenculture.com.au