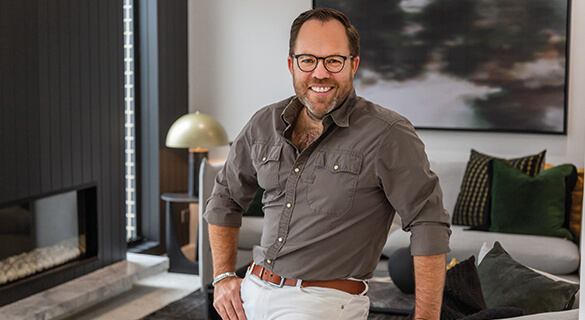 Posted on 21st March 2022
James Treble's Top 3 Autumn Interiors Trends to Transform Your Home
With the weather becoming cooler and the days drawing shorter, it's inevitable another Autumn is just around the corner. Eden Brae Homes spoke to leading Australian Interior Designer James Treble to discover his top Autumn 2022 design trends.
Trend one: Natural materials
The global pandemic – and its many stay-at-home orders – has influenced all of the top trends for Autumn 2022, according to James.
"Through all of last year, we were yearning to be back outside and connected to nature to restore our sense of calm and balance," James says. "It makes sense we still want to maintain this connection, even as we retreat indoors to warmer, comforting spaces. Bringing natural elements into our home is how we can do just that."
James suggests natural stone-look kitchen and bathroom benchtops as a great way to introduce this trend, complemented with the natural character of stone tiles for bathroom floors and walls and kitchen splashbacks.
He also recommends using timber grain in both joinery and timber flooring for a simple but natural effect. This choice is made even easier and more affordable by the extensive range of products available today.
"Whether it's an engineered timber or a timber-look laminate product, everyone can interpret this trend. To choose the best option, consider how hardwearing you need the finish to be, your budget and your home's style," James says.
James loves how woven fabrics with their raw, organic feel incorporate natural materials in your home's soft furnishings and window coverings. He says a bonus of natural weave curtains is they "beautifully filter light onto your walls to soften spaces and absorb sound, creating exceptionally calm spaces."
Teaming curtains with block out blinds in bedrooms provides filtered privacy while still maintaining your room's connection with the outside world, he maintains.
James believes any one of these beautiful natural elements will add real value to your home. He says their connection with nature means they'll be good for your blood pressure too!
Trend two: Large scale plants indoors
James' next trend for Autumn 2022 satisfies our desire to stay connected with nature during the cooler months by bringing the outdoors indoors using plants.
Lots of small pot plants can be harder to maintain so this trend embraces strategically placing large statement plants in feature pots in underutilised spaces, including room corners, voids under staircases and next to your freestanding bath.
As James says, "The beautiful organic shapes found in the leaves of larger plants creates soft but contrasting finishes against all of the squares and straight lines we have in our homes created by walls, joinery, cupboards and even tiles."
James highlights the importance of selecting the right plants, advising tropical plants will work better and be happier inside as they thrive in softer light through windows.
Don't have a green thumb? Don't stress! Happily, James says you can still incorporate this trend with clever decorations and furnishing, playing with large scale plant and flower images in artworks and cushion fabrics.
Trend three: Curves and more curves
James' third trend for Autumn 2022 homes in on creating the sense of balance we're all craving by incorporating curves into your home to contrast its straight lines.
For cost-effective solutions, add soft lines and curves with your furniture choices: a little round stool in the makeup space of your walk-in wardrobe, a beautiful ottoman at the foot of your bed, an arched upholstered bedhead and curved or round coffee tables in glass, or a natural stone such as marble will do the trick.
James also recommends exploring the amazing curved kitchen islands and vanities becoming increasingly available. But he cautions these profiles can come at a cost. So for the budget-conscious, James recommends adding curves with your accessories and fittings.
"In the kitchen, add round chopping boards to style your bench, complemented with a gorgeous oval feature light and round stools if your budget permits. Use funky cushions to inject curves – and fun – adding circular cushions to the predictable squares and rectangles usually scattered on lounges and beds.
James has budget-friendly tips for the bathroom, too, adding curves with an arched or pill-shaped mirror. He says it's important to remember mirrors are not just for bathrooms and can also make a stunning statement in your entry foyer.
Regardless of your approach, James believes anyone can incorporate the seasons – and this year's Autumn trends – into your home's interior.
"Seasons present the perfect opportunity to update your home, whether it's by incorporating furnishings you can quickly change as the weather changes or taking seasonal inspiration to create a long-lasting feature for your home," James concludes.
Interested to learn more? Visit the Eden Brae Homes website for more design tips, including videos, from James.