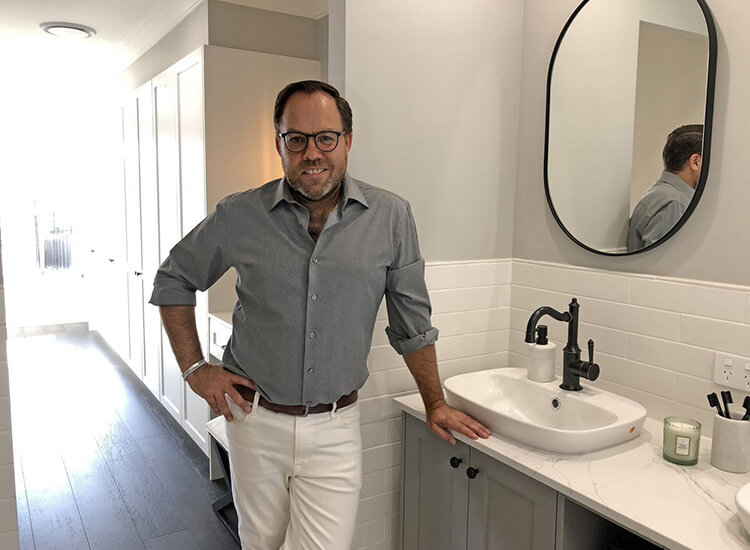 Video | Display Home Tour
Posted on 28th April 2020
Tour with James: the Forsyth 33 Personal Ensuite
The Forsyth is an awe-inspiring 2 storey brand-new home that has been specifically designed with functionality and affordability in mind. This home ensures that nothing is compromised when it comes to space. Perfect for the growing family or those who love to escape to their own space, the Forsyth has four bedrooms and a variety of living zones to suit your everyday lifestyle and is an entertainer's delight.
Transcript
I'm here at HomeWorld Box Hill, outside the Forsyth 33 a large four-bedroom, two-storey home by Eden Brae Homes. It's definitely got a character filled façade but join me now as we walk inside this home and see what it really has to offer. I do give you a warning though: be prepared to be impressed.
This is definitely an impressive entry, and I don't know which way to look. I've got a beautiful view down and into the house through to this very wide hallway, but this lounge room located at the front of the home, which is actually one of four, yes, four separate living areas in this home, definitely adds to the feeling of space.
A small hallway provides separation and a little bit of privacy for the entry to the powder room, a really well-considered part of the floorplan for this home. It also leads to this great size laundry that has plenty of storage options, including a large double door linen cabinet.
The home theatre is located in the centre of the home, it's a perfect destination; but because of the wide hallway and the great flow from one room to the next, this floorplan is made for entertaining.
Walking down the hallway we come to the large dining, family and kitchen. This is definitely quintessential open plan living. This dining room is made for entertaining and that family room, personally I want to lie down with a book and really enjoy that natural light. But in this room, it's the kitchen that steals the show. I did warn you that you'd be impressed.
Because the Forsyth 33 has such a large floorplan it allows for an oversized kitchen island like this one but the amount of bench space and storage continues along the cooktop run and down into the pantry area. This floorplan allows for so many options; here we've included a second sink and extra storage.
Making your way up those striking stairs we come to the games room. This is the fourth living area in this home. It's centrally located so it allows that beautiful natural light to flood in and it also separates two bedrooms to the front and two bedrooms to the rear.
Each of the bedrooms in this floorplan are of a great size, you can see here we can easily fit in a queen bed, bedsides and a desk or seating area. But one of the great features of this home is that every bedroom in this home has its own ensuite. It's important to remember that the four separate living areas allow plenty of options to spend time with the whole family together, but these bedrooms can also become a private destination, a nice retreat for a bit of time on your own.
Don't forget, this is a spacious home and each of the three family bedrooms have a great amount of space, but this is the master suite and it definitely shows. There is so much room in this room, so this is a true parents' retreat, and there is more.
This is definitely an impressive walk-in robe, accessed from either side of the bed. There's plenty of storage options for you to configure as you like, and there is enough space for you to include a pampering area, for mum or dad.
Of course to create a truly impressive master suite you must also have an ensuite. Now, this room is large, there's plenty of storage options in that vanity, with two basins and two mirrors, but there is also plenty of room for a free-standing bath, creating the true pampering destination that mum and dad deserve.
So, what do you think? I did tell you'd be impressed. The Forsyth 33 Personal Ensuite has so much to offer and more. You can come a take a walk through yourself right here at HomeWorld Box Hill, or why not do the virtual tour and find out more details online at edenbraehomes.com.au.