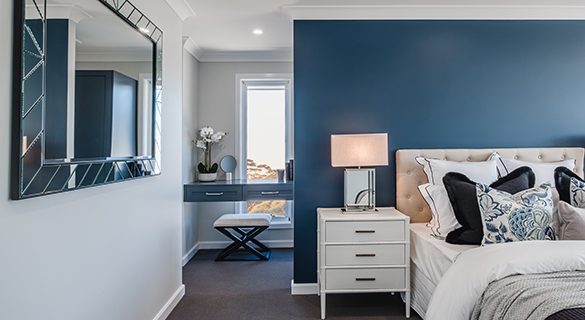 Posted on 27th October 2022
The stress-free way to choose paint colour
Vermillion, scarlet, burgundy – so many shades, but all you see is red! Tackling your colour selection can be a daunting task, as it ties into every other design element of your home. But with a little bit of know-how and a lot of advice from the colour specialists at our Studio Eden, you'll feel more than assured about diving into your paint selection.
Three keywords for choosing your paints
When choosing your paints, the first key word is harmony. A floor is a large expanse of colour, so it's essential to consider its undertones – is it cool or warm? A soft oak brown or a blue-based grey? It's important to harmonise the paint colours for your walls, window frames and doors with the undertone of your floor. Look for harmony between the floor, the paint colour and the features of your space.
The next key is light. Orientation, sunlight and the colour of electric lighting shape the colour of a room, as does the colour of the items that will be placed in the room. Consider the effect you want to create: a cocooning feel or a dynamic space? If you're looking for depth and cosiness, choose luscious dark shades. But if you'd prefer spaciousness, you may like a sun-bleached white. However, avoid going too white; you don't want to feel like you're waking up at the dentist.
The last key is swatches. They're the small physical samples you use to make up your palette. Looking at two shades next to each other will make comparing them clearer. Remember, digital colours look different to paint, so seeing samples at Studio Eden is always the safest best.
Studio Eden's colour specialists will guide you with advice, provide tips and swatches to help you choose your internal colour schemes. Having their expert advice to hand is very reassuring, as they work with paint colours all day. By asking you questions to understand your preferences and looking at samples with you, they will help you to choose the colours that will work best in your new home.
Popular trends this year
After two years of sitting at home, we've all come back together with gusto. Some festivity in your paint choices will be more than welcome. This year has seen the return of bold and vibrant shades carefully balanced against colours reflecting the natural Australian landscape.
For example, electric and aqua blues like Taubmans' "Hello Sailor" match the bright skies and sunlight of the Australian coast. In contrast, warms greens bring nature into cosier, darker spaces. Moreover, feature walls add striking brightness at little cost to time or money.
One last tip, choosing your paint colours is best done towards completion of your home build. Colour is the stage on which all your other elements shine. If you need more advice before diving into designing your dream home, give Eden Brae Homes a call today on 1300 645 860.